BURNSALL CENTENARY OF DALZELL RECORD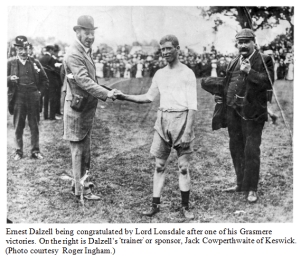 This year marks the centenary of the legendary Dalzell Record at Burnsall in Wharfedale, Yorkshire, and the Burnsall Feast Sports Committee is planning to commemorate it with an extra special event on Saturday, August 21st.
Ernest Dalzell was Lakeland's champion guides racer prior to WW1, in which he was killed in action. Tommy Metcalfe, a rival from Hawes in Wensleydale, had completed a hat-trick of victories at Burnsall in1909, but his time of 14.23 the previous year had been 1.04 faster than his other two, giving rise to doubts about its authenticity. That year was Metcalfe's outstanding season, however, and he had twice defeated Dalzell in Lakeland events and finished 2nd to him at Grasmere, after winning the Mile there.
A much slower time in poor conditions was posted in 1910 by Bob Thomas, Accrington, and it was afterwards decided to promote a special race on September 24, a month after the Sports, with £5 for the winner and £2.10.00 (£2.50) for runner-up. The event attracted eight entrants, including four from the Lake District, and conditions on the day were perfect.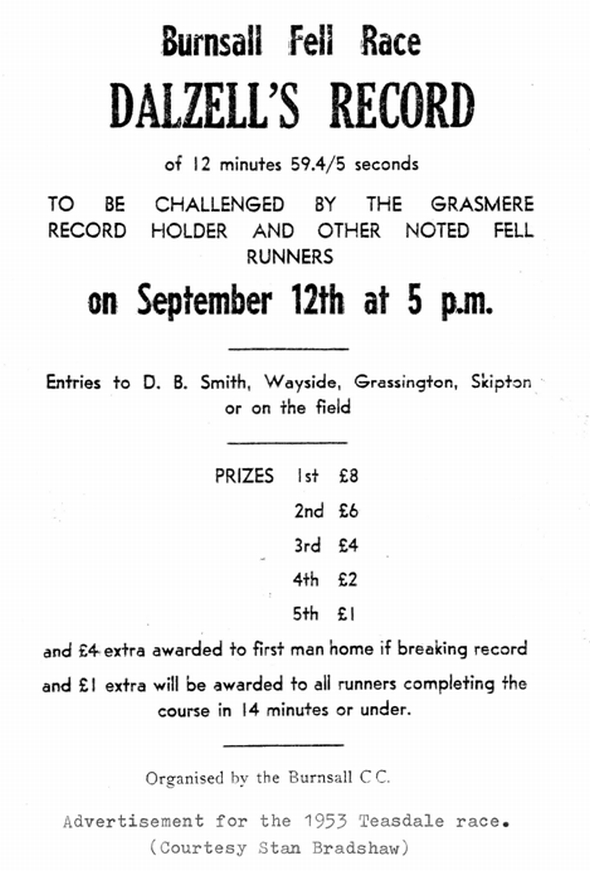 Metcalfe was running more track races than fell races that year but was still anxious to see his record survive. He therefore made sure that his rivals were aware that he knew the best routes up and down the fell, hoping they would follow him. Taking the lead going up, he deliberately went off-course into rougher terrain, but Dalzell had decided to follow Thomas, who reached the cairn in 10:17.5, two seconds ahead.
Dalzell, a noted downhill specialist, now embarked on a typically suicidal descent. "It is impossible to describe the terrific pace at which Dalzell flung himself down the slope," reported the Craven Herald, September 30. "He passed Thomas like a flash..." Other observers have variously reported: "Dalzell's descent was hair-raising in the extreme... It was something inhuman for the man stayed in the air longer than nature intended... He was not running merely, or leaping, or sliding over treacherous ground. He was doing all three at once..."
His winning time of 12:59.8 was recorded by the official timekeeper on a £100 stopwatch, indicating that the descent had taken him only 2:42.3, with Thomas retaining 2nd place a few hundred yards adrift. However, a controversy now arose far greater than that which had surrounded Metcalfe's 1908 time, and some folk insisted that the new record was actually 14 minutes, with the descent having taken 3:42.3. But Roger Ingham of Skipton, probably the foremost living authority on professional fell racing, has pointed out that a 3.42 descent would hardly have been much faster than average and would not have provoked such wonder and excitement among spectators who "swore by Dalzell's record, and most said they had never seen anything like it in their lives."
The controversy continued to rage for many years and in 1932 the Sports' fell race became an amateur event. In 1953, however, a second special race for professionals saw the great Bill Teasdale from Caldbeck, "back o' Skidda'," record the second fastest time of 14:07, though his performance would have been much more impressive had he not been prevented from having a proper warm-up by inconsiderate newspaper reporters.
The 1976 amateur race saw that year's amateur champion, Martin Weeks of Bingley Harriers, come very close to the Dalzell Record only to unwittingly slow down approaching the finish to raise his arms in a victory salute and be timed in at 13.01.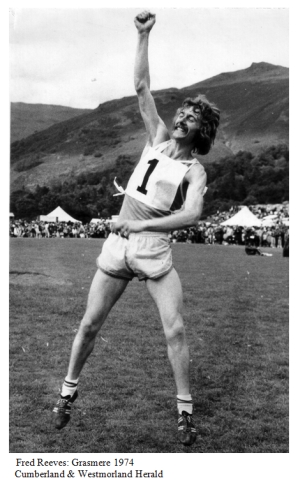 However, a third special professional race the following year resulted in Fred Reeves of Coniston, the champion guides racer of the '70s, creating a splendid new record of 12:47.2, which still stands. An exceptionally powerful climber, Reeves reached the cairn in about 8.55, and while not the equal of his great rival, Tommy Sedgwick, as a descender, his return was described by an awestruck Daily Express reporter as involving "giant suicidal leaps. The boulders were his launching pads and his spiked shoes struck sparks as they fought for a grip..." Sedgwick, twelve times a winner of the Alva race in Scotland, finished 2nd in 13.19, and Reeves was afterwards quoting as saying, "That race was for Dalzell. Now perhaps people will believe."
Acknowledgement: Many thanks to Roger Ingham MBE for much of the foregoing information.
Bill Smith