SO I DID IT! My 65 Fell races At 65
Lyn Eden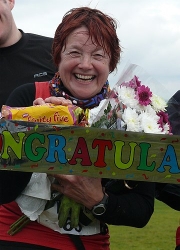 I did it. My 65th fell race in my 65th year, Stanbury Splash fell race from Penistone Hill quarry, above Haworth this Sunday 24th January. And, despite misgivings because of snow and ice forcing the cancellation of races, I managed to complete all 65 fell races before my 65th birthday on 7 February.
My first fell race was appropriately the Ilkley Moor Fell Race, 5m over 1260ft of climb February 2009. A race organised by my own club. At the time I wasn't aware of the challenges I would face over my year of racing on the Northern fells of England. My challenge didn't really start until April, when I decided to take this challenge seriously, but also, it was not only important to me to run all the fell races but to enjoy them.
It was when running Waugh's Well in Lancashire that I wondered just WHY was I doing this. I knew why. My mind went back to August 1992, when I was admitted to Ward 26, Leeds General Infirmary having collapsed with a brain haemorrhage, and being told by a doctor that I would never walk to the end of the street never mind run again. His words still stay with me, and every time I run wherever it is, I feel tremendous gratitude towards the consultant and doctor who later helped me in March 1993, back to full and complete health with balloon embolisation, then, a ground-breaking operation where two little balloons were inserted into my brain to seal off the bleeding artery situated next to my brain stem. So to run is an exceptional privilege to me. Now, no matter how hard the race I feel such a joy just to be there, running, albeit slow. With two balloons in my head I ought to be able to float around them.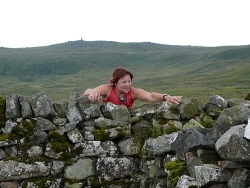 Family duties at the end of July/beginning August race programme with the birth of my husband Jim's grandson and a last minute surprise visit from my daughter who lives in Vancouver meant that we missed 5 BOFRA races over the August Bank Holiday.
A note about BOFRA. Until this year `I had flirted with a few of the BOFRA races, mainly because they were there. I thought of them as 'BIG BOY Stuff', not for the likes of me, a back of the fielder, and a woman to boot, not quite the shape expected of fell running women [bit big where it shouldn't be - cuddly!]. But this year, the welcome I received from organisers and marshals of BOFRA races has been just so lovely for someone like me running in always at the back. I JUST SO LOVE THE ATMOSPHERE AT THESE RACES, AND THE DEDICATION TO CHILDREN RUNNING. So this next year I want to run as many as I can, and have joined BOFRA with the intention of giving it the support it deserves.
Mid September Jim injured his Achilles. Being the angel he is, he insisted that I continued with my holy grail and drove me to my races, BLESS HIM.
Although the weather late December/January deteriorated with snow to such an extent that all fell races were cancelled I found enough races to ensure that I completed my 65th race at Stanbury Splash as planned on Sunday 24th January.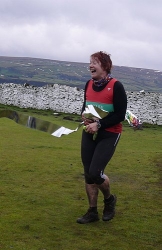 Dave and Eileen Woodhead's races at Penistone Hill above Haworth are closest to my heart. These offer everyone everything. I cannot express the atmosphere at the race venue, the enthusiasm of everyone racing them, the challenges they offer and, most of all, the fun element, without losing the fact that some of the races are serious fell races over moorland often in inclement weather conditions.
Most of all I owe special thanks to my patient husband, Jim for his uncomplaining help over the year, journey planning and ensuring that we arrived at the races, wherever they were, in good time, and being there at the end of each race to either run me in or cheer me on. This year has been a total commitment that required us to travel and run fell races in Yorkshire, Derbyshire, Lancashire and Cumbria, whatever the weather. On some occasions it would have been easier not to go, or turn back. But we didn't.
I just love the experience of racing on the fells, and as long as I am able will continue, and this year February 2009 to Jan 2010 has given me so many memories. Especially wonderful was completing my 65th race, to be greeted by members of Ilkley Harriers, my running club who had gathered to cheer me in with champagne, flowers. Dave and Eileen also presented me with a cake. What a wonderful way to celebrate my 65th fell race. And what's more, I achieved my aim to enjoy every race I ran.
Lyn's 65 Races are shown below