Member Profiles - Luke Appleyard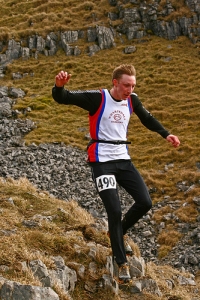 Name: Luke Appleyard
Club: Wharfedale
Where are you from?: Horsforth
Age: 31
Occupation: Electrical Engineer
How long have you been running?: On and off since primary school
How long have you been fell running?: First race was Ingleborough 2009
Why fell running?: The difficulty factor and the racing scene
Favourite Race(s) why?: Coledale Horseshoe- tough, Any gala or fete race- atmosphere
Greatest achievements (or disasters!): Disaster - ongoing Iliotibial band syndrome (ITBS) problem. Not achieved a great deal as yet
Do you follow a training programme?: No
What is your weekly mileage?: Limited to 8-10 miles
Who is your sporting hero / villain!: Hero- Robert Hooke. Villain- Isaac Newton
Favourite food: Sunday roast
Favourite drink: Samuel Smith's Alpine Lager
Favourite shoes: Walsh PB
Favourite piece of running kit: Acme Tornado Howler Whistle
Favourite music / band: Progressive Trance - Paul Oakenfold. Old school hard house- Tony De Vit/Danny Rampling
Favourite movie / TV programme: Family Guy, Simpsons and The Weather.
Do you have any other hobbies?: Trout fishing / Lead mining
Give us an interesting fact / something we wouldn't know about you!: I used to DJ in the underground hard house scene in Leeds
Complete the sentence: If I wasn't fell running I would be... ...miserable probably
Complete the sentence: I have never... ...liked sunny holidays abroad by sandy beaches. Give me a sopping wet fishing weekend in Cumbria any day..
Anything else you want to add?: No to metrication!
Luke Appleyard