Alva Games Fell Race Results
Saturday 14 July 2007
Race Report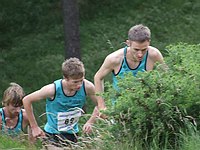 Our trip across the Border to the Alva Games usually starts on a Friday at the Witches Craig Caravan and Camp site. With the bad weather we've been experiencing lately, it was no surprise that on Friday night it absolutely poured it down. And for some of our BOFRA members, Saturday was an early start when they woke up in the night to find themselves and their equipment floating about in water - not a good start for the weekend.
Fortunately it brightened up for the games, when our runners had the daunting task of climbing the Torry which towers over Alva. The races start and finish in the ring and all age groups have some severe climbs and descents. It's not for the faint hearted but every runner's cheered in like a champion when they come into the arena to cross the finish line.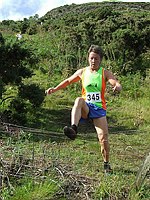 In the seniors, Helm Hill Runners took the top honours in the men's race. Tom Addison put in a gutsy climb to turn at the summit in first place but with last year's winner Alistair Dunn in hot pursuit, he was overtaken on the descent, for Alistair to claim his second win here. Chris Doyle took third place making it a club top three. Jack Holt finished fourth and first vet 50 with Iain Gibbons a close fifth. Martin Laine from Fife took sixth and first over 45 vet Paul Tuson finished in seventh. Dean Thompson claimed eighth place and was first over 40. Ninth place went to Lionel Sands but the descent of the day must have gone to Carl Bradshaw who overhauled seven runners on the descent to claim a top ten place. The first ladies prize went to local runner Judith Turner and another Scot, Susan Lynsey was second. Our Ladies took the next three places with Dawn Richards in third, followed by Sam Morphet and Tracy Uren.
The under 17 races have been really exciting this year and this one was no exception; two seconds parted first and second with James Mountain holding off Alex Till. Tom Sessford came into the arena in fifth place but sprinted past the fourth and fifth finishers Tom Doyle and Scott Green to get third place, obviously he was saving this for the spectators. Our young Ladies took the under 17 girls prizes with Emma Thompson and Sarah Wilson first and second.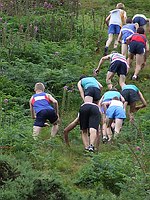 Rory Addison put in a classy performance and put quite a gap between him and second place Sam Till in the under 14's, with Scottish runner Alex Coubrough in third spot. Keiran Thompson and Jacob Uren ran well to claim the next placings. Considering Emily Throup woke up in the early hours in the middle of a lake, she did a brilliant job in winning the girls' race with Faith Biddle and Mel Morphet second and third girls.
In the under 12's, James Knox is on top form with another sparkling performance, he crossed the line with over half a minute between him and Ben Till. James Hall finished third with Phil Done and Declan Bulmer in the next two placings. Lorna Jo Nunwick ran a credible sixth overall and first girl, with Georgina Spencer and local girl Shauni Dewar in second and third.
Congratulations and well done to all our runners who mopped up the prizes in every age group...or should I rephrase that?!
A special thank you to our friend Craig Dunbar and the Alva Games Committee for making us more than welcome. Once again our ladies on the line and our helpers with entries made everything move smoothly - Thank you.
Barry Scholes