Alva Games Fell Race Results
Saturday 12 July 2008
Race Report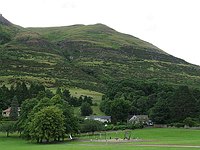 Well! It was over the border to Scotland to the Alva Games. To those of us who went up camping we were blessed with a dry weekend. We always get a warm welcome at the games and free entry to the games for competitors. We've had loads of rain down here in England but the course up the Torry was dry as a bone and ideal for some runners. The Torry is a huge hill which dwarfs the town of Alva. The senior race is the main attraction and most of it can be seen from the showground, it is quite spectacular for the appreciative audience in the show ring.
The senior race had 66 runners completing the race with a very strong competition from Scotland. Alastair Dunn who was on for a Hat-Trick of wins took the bull by the horns and pulled off an awesome display of climbing to collect his 3rd win here, with Stirling runner Ewan McCarthy half a minute back in 2nd. The 3rd runner, Stewart Whitley held off the fast finishing Ted Mason by a fine margin - Stewart was 1st V40 and Ted was reasonably pleased coming away with a P.B. Bruce Elsworth put in a great run to come back in 7th place with Mark McGoldrick in 9th. First U23 man was Sam Watson in 11th with V50 Billy Proctor hot on his heels in 12th. Jack Thompson in his first year in the seniors would probably have been a lot further up but had some horrendous blisters which needed hospital treatment after the race so was quite a tough lad to finish in 13th.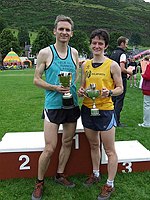 Lisa Lacon must have broken any recent records in the ladies race with a magnificent win over last year's winner; Alva's Judith Turner. Third lady was Rowena Bell Scott and our other ladies were led home by Dawn Richards in 4th with Val Done, U23 Sam Morphet and Sue Narey in 5th 6th and 7th.
The dry conditions meant that all last years times in the junior events were beaten, the U17 winner Tom Sessford beat last year's time by almost half a minute to win a hotly contested race, with Johnny Bradshaw putting in a big effort to come home in 2nd. Tom Doyle had one of his best results so far this season to get 3rd place on the rostrum. The prize winners in the girls were 1st the in-form Melanie Hyder with local girl Rachel McIlwraith in 2nd and Rebecca Swindells in 3rd place.
The U14's saw James Knox win by a huge margin to show why he's leading the championship. He was followed home by Ben Till, with James Hall taking 3rd place. Declan Bulmer seems to be getting better and better as the season goes on and came back in a close 4th. In the girls' Lauren Munro-Bennett had over a minute up on 2nd girl Nicole Narey with Faith Biddle collecting 3rd prize.
Ben Johnstone is one of our runners who has yet to be headed, he's got loads of guts and a clean sheet with BOFRA wins this year. Once again he put in a brilliant run to come home well in front. Will Smith kept up his challenge to take 2nd place followed by David Goad in 3rd place. Lorna Jo Nunwick is another to be headed, winning the U12 girls' race convincingly from Alva runner Shauni Dewar. Sophie Marshall got a well earned 3rd prize.
Well done to all our athletes in every age group who went up to the games and ran, we should be well pleased with how the weekend went. A big Thank You to all our friends in Alva and to all who put their leisure time into making sure these events go ahead.
Next week "The Dales" at Hawkswick.
See you there!
Barry Scholes