Ambleside Sports Fell Race Results
Thursday 26 July 2007
Race Report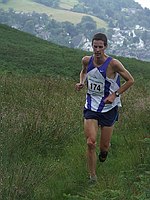 Ambleside Sports is one of our premier events and this year we included it as a Championship Race. Luckily we prepared the courses the day before, except for the u17's which we did on the day, which meant some of our runners armed with scythes cutting back the bracken, we turned it into a 'fell runners highway'. The routes all come out of the Sports Arena, starting off with a gradual ascent that gets steeper climbing through the bracken up to various turnround points. All the races have a brilliant downhill finish back into the Arena. On the day it absolutely threw it down - nice Lakeland weather. Unfortunately it rained consistently through the junior races but the saving grace was that it stopped when the seniors ran - some of us have enough creaking joints, so someone up there is looking out for us.
Onto the senior fell race, 48 runners signed up for the race but one did a 'Houdini' before the start. Last years winner Danny Hope must have thought he was in with a chance for a double but this year we were graced with a fell running technician in the form of Rob Jebb in probably his first BOFRA event of the year; and hopefully not his last. He did an amazing time in the soggy conditions of 14.32 with Danny half a minute adrift in second place, closely followed by first u'23 Tom Addison who is certainly making his mark this year at our events. Talking about 'marks' Tom Addison's cousin Mark took 4th spot followed by Chris Heys in 5th. Alistair Dunn who earlier in the day ran the Rydal Round did really well to secure 6th place. 7th place went to the first o'40 Chris Small, Steve Carr had another strong run for first o'50 (13th overall). First o'45 Adrian Pickles closely followed in 14th place.
Sharon Taylor, who's Rob Jebb's partner secured the ladies race well ahead of second lady Julia Laverick. The next three placing were all our own members with Dawn Richards, Lynn Whittaker and Sam Morphet all running well.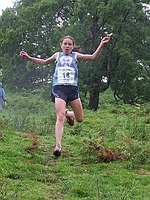 In the u'17 Guides Race you would have to be some athlete to take this away from our BOFRA Championship runners. Once again this proved to be a close race with only 8 seconds parting the first 3 runners, as James Mountain once again held off the opposition - this lad's got some guts when it comes to competing. The boys behind him are really turning on the the heat, Alex Till was fast in pursuit with Tom Sessford a close third. Tom Doyle, Jos Addison and Jack Thompson battled out the next three placings. In the u'17 girls Emma Flanagan had a great win with Emma Thompson and Francesca Gregory in 2nd and 3rd. Considering the horrendous conditions on the day we were extremely lucky to have 19 athletes running this event. Well done all of you.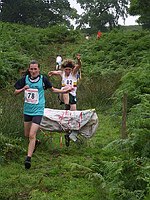 The winner of the u14's event has a fine pedigree and I don't mean he runs on all fours, his family are well known on the fell running circuit, Ellis Bland put in a classy run to come back well in front of the rest of the field. Only 1 second parted the next runners Sam Till and Rory Addison both had quite a battle approaching the line. Mark Scott, Sam Westcott and Ryan Croasdale gave it their all for the next placings with Dale Sutton in 7th. First girl and 8th overall was Melanie Hyder, she's really in a class of her own at the moment with most of the field behind her. Second girl also running well was Lauren Munro Bennett with Emily Fox and Kim Little in third and fourth, this was a classy field of 25 runners.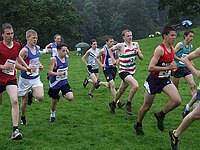 In the u'12s James Knox is in control as he seems to be getting faster and faster. He had over half a minute on second placed James Hall who was closely followed by Liam Burthem, Joe Stapleton and Phil Done with Evan Bland in sixth. Megan Stuart beat quite a good field of girls with Tania Wilson and Lauren Appleyard in second and third. It's a tough little race at Ambleside and taking into consideration the wet conditions it was nice to see 32 under 12's running this event. Well done all of you!
This year's event was well organised and we had loads of helpers who made the day go smoothly. I for one cannot thank you enough, it really makes you proud to be a BOFRA member.
Barry Scholes