Coniston Gullies Fell Race Results
Sunday 3rd June 2007
Race Report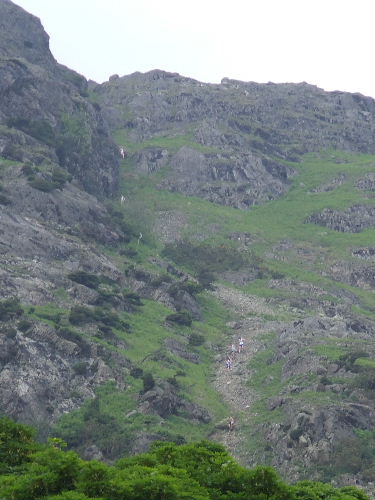 Coniston Gullies is a brilliant fell race for the fearless fell runner. It may be short in distance, but it has a lung buster of a climb and a tremendous descent which is a sheer drop taking in a scree section. It's a classic up and down race, not for the faint hearted.
In the senior race Alistair Dunn is a man on a mission; he totally annihilated the rest of the field finishing nearly 2 minutes up on second placed Tim Austin. Super vet Steve Carr finished 3rd, with another super vet Jack Holt in 4th. 1st u23 male and 5th place went to Sam Watson, with Ian Gibbons in 6th. 7th place and first v40 went to Colin Urmston with 1st v45 Gary Bastow closely following. In the Ladies' race, Karen Forster took 1st place with Kate Rogan in 2nd.
In the u17 race 13 seconds separated the first three boys with James Mountain coming home in 1st place. Jack Thompson last years champion finished in 2nd, after Matt Fretwell had a tumble coming to the finish line which dropped him into 3rd place. In the u17 girls Sarah Wilson came home in 1st in front of Lois Grinstead.
In the u14 boys Scott Baistow took complete control of the race having a comfortable win, with Jacob Uren and Keiran Thompson in 2nd and 3rd. In the girls race, Rebecca Swindells had a minute gap between herself and Lauren Munro-Bennett, with Melanie Morphet in 3rd place.
The u12's saw Sam Stockdale collect 1st place with Phil Done in 2nd place followed closely by 1st girl Lorna Jo Nunwick in 3rd place. 3rd boy Jake Lowther was in close pursuit and Rebecca Forster finished 2nd girl.
In the u9's, Ellamae Gibson showed the boys the way home winning the race with Daniel Cardus 2nd, Nathan Chadwick 3rd, Adam Gibson 4th, Alexander Chadwick 5th, and 2nd girl Suzannah Forster in 6th place.
Considering there were quite a lot of other races on at the weekend we had a good turn out and some tremendous racing for the spectators. Thank you all for supporting us and a special thank you to everyone who helped us on the day.
Barry Scholes