Coniston Gullies Fell Race Results
Sunday 1st June 2008
Race Report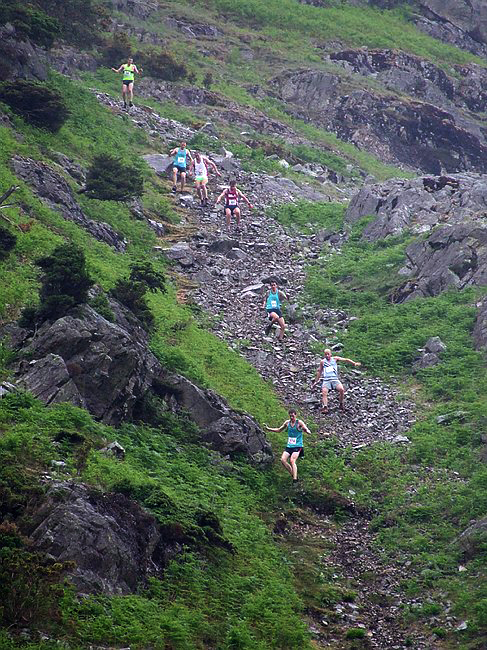 Coniston Gullies is probably one of our scariest races with some serious obstacles to negotiate, which was made a lot more difficult when the rain came. Nevertheless we saw a very strong field of 53 senior runners compete. BOFRA champion Alastair Dunn showed us why he's the one to beat with a convincing win over Wharfedale's Ted Mason in 2nd followed by Rossendale's Brendon Taylor. Two under 23's took 4th and 5th as Wharfedale's Sam Watson and Pendle's Jack Thompson put in brilliant performances with only one second separating them. Two seconds behind these was Keswick's Chris Edis - it must have been quite a scramble to the line. Mark Croasdale took seventh place and first vet 40 closely followed by Wharfedale's Mark McGoldrick ahead of young David Shepherd of Settle. Billy Proctor of Helm Hill Runners claimed 10th place and the over 50's prize with the first over 45 Colin Urmston following. I don't know what they eat in Alastair's house, but it must be something special, as wife Jennifer had over a two minute lead on second place Kirsty Hall with last years winner Karon Forster in 3rd.
Once again the under 17's attracted a strong field. Settle's Matt Fretwell showed a lot of courage to hold off the likes of Wharfedale's Jonny Bradshaw, Keighley's Tom Sessford and Helm's Tom Doyle, with just 8 seconds separating these athletes. Helm's Jos and Rory Addison ran a credible 5th and 6th. Last years under 14's champion Melanie Hyder had a great run to take 1st under 17 girl with 2nd and 3rd prizes going to Rossendale's Emma Flanagan and Pendle's Emma Spencer in a very competitive age group.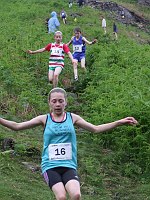 In the under 14's, Helm's James Knox held off Lancaster & Morecambe's Ryan Croasdale to take 1st prize, these lads had quite a gap on the chasing runners led by Skipton's Sam Westcott. Keighley & Craven fielded a good team of girls who entertained us with a Cheer Leaders Chant on the day to brighten things up. But it was Lauren Munro-Bennett who won 1st prize in the under 14's girls, followed by Keighley duo Pippa Barrett and Charlotte Cox.
The under 12 races saw Wharfedale's Ben Johnstone put in a great performance to take his second win in the championship, second and third prizes went to Skipton's William Smith and Helm's Oliver Willink. Very little separated the chasing pack who were led by Keighley's Phil Done. Lorna Jo Nunwick kept the girls at bay with a good gap over Helm's Loren Appleyard, with Rebecca Flanagan in third place. The under 12's once again turned out in strength with 30 runners competing.
We had a good field of under 9's considering the miserable weather - 16 in all. This was won by Ilkley's Charles Smith, with Helm's Lewis Goad and Rossendale's Thomas Sumner taking second and third. Settle's Katie Horn took the girls top spot with Keighley's Emily Cox and Tegan Knappy taking second and third places.
I would like to thank our helpers on the line who once again made sure the day went smoothly, and a big thank you for your continued support at our events whether as a runner or spectator.
Finally what made my day at Coniston was Les and Pat Storton coming to support us. Ex-runner Les and Pat worked tirelessly for BOFRA for over a decade and how strong we are today is down to people like them who have given their time freely for the love of the sport. Les still compiles our Second Division. Our thoughts go to Pat who over the last few years has battled against illness and still looks very fragile, hopefully the worst is behind her. We get used to being in an environment where people are physically fit ie., BOFRA. Pat and Les have been a big part in this set up and they made me, for one, feel very humble on the day, for what they have done for me and other runners God Bless them!
Barry Scholes