Coniston Gullies Fell Race Results
Sunday 31st May 2009
Race Report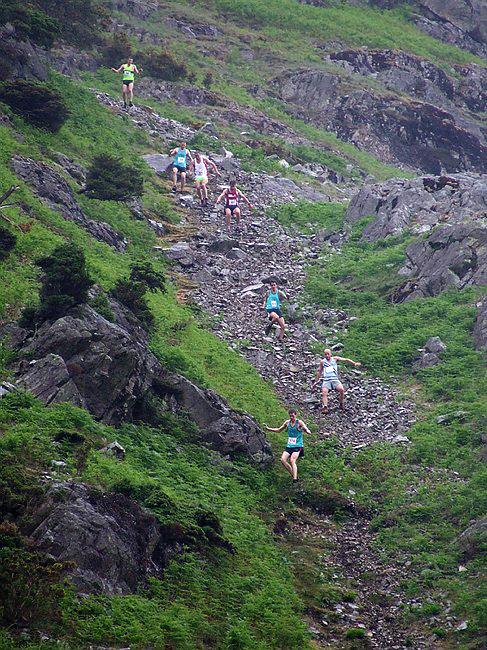 Phew! What a scorcher. And it's still not summer...eh! Maybe we've all got used to the winter weather, or maybe we've got used to less intense races, but I don't think anyone finished their race without copious amounts of sweat (for the blokes) or perspiration (for the ladies!).
What a change from last year's rainy wet slippery conditions. A glorious day! Dry, warm and just about perfect for... sitting in the shade watching the junior races!
First off, back to normal, were the under-9's, led home by a vest-less Robbie Johnstone, and a dash to the line for Joe Kent and Tom Willink in 2nd and 3rd. In the girl's race, Lucy Horrocks showed she had her Mum and Dad's running genes and secured the win, with Fiona Hodgson and Ellee Keating following for 2nd and 3rd respectively.
A short respite for the timers and recorders and then the U12s were off - all 30 runners! And with some fine runs being recorded, the timers and recorders were busy very shortly after the start! In the boy's race, Neil Orr notched up another excellent win just ahead of, and pushed to the line by Joe Stapleton, with Ben Kent securing the 3rd position to match his place at Sedbergh. First girl home was Ellamae Gibson, just ahead of Holly Carter with Hannah Thom not far behind.
The competitive theme continued with the U14's where James Knox put in a great run to bag his 2nd win of the season ahead of top quality competition, with Alex Speight bagging 2nd spot and Ben Johnstone just getting ahead of Daniel Walsh in a sprint for the line for 3rd place. Helm hill girls Lauren Appleyard and Lorna Jo Nunwick battled for honours in the girl's race with Chelsey Holder showing her Dad that fell racing is far more satisfying and entertaining than watching the rugby!
Call-ups for an England training camp and impending GCSE exams may have reduced the field for the U17s, but certainly not so the competition! A fast start with Scott Baistow pushing Tom Doyle up through the first field, but Tom revelled in the competition and kept pushing to secure an emphatic win, with what must count as one of the runs of the day. Meanwhile, Alex Brown was running a well considered tactical race and timed his pushes up and down the fell to perfection to get ahead of Scott and finish in a fine 2nd place, with Scott finishing in 3rd. In the girl's race, Melanie Hyder and Pippa Barrett emulated their Sedbergh performances to bag the first 2 places, with Robin Goodfellow getting ahead of Lauren Munro-Bennett for 3rd place.
Then it was time for the seniors to come out of the cool shade into the blistering heat of the midday sun (okay...so maybe it wasn't that hot...but poetic licence and all that!). The gullies is one of the classic BOFRA races and has a fearsome reputation for steepness of ascent and technical difficulty of the descent. And well deserved as we know.
Rounding the telegraph pole I heard a heartfelt and well meant plea from Andy "Wharfeego" Holden to Alastair to "...slow down a bit...!" but clearly he was having none of it and proceeded to rapidly get out of sight to most of us mere mortals! Chris Edis and Brendon Taylor kept Alastair company though, and I reckon the 3 of 'em must each have finished before I'd got to admire the views from the top of the everlasting gully (...as the climb seemed to me!). And so I'm sure did the 4th and 5th placed battling Wharfedale duo of Chris Newman and Sam "Watdog" Watson who have been nip and tuck over the past few months.
For the ladies, Lisa Lacon similarly repeated her Sedbergh win with a fine performance, with Jenny Dybeck getting another 2nd place in the bank with 3rd place this week going to Helm Hill's Kathleen Aubrey.
In the slightly older seniors, Youngsters (!) Billy Proctor, Colin Moses and Andy Trigg notched wins in their respective age categories.
Special mentions this week I reckon must go to...
Lewis Hetherington - his 2nd ever fell race (Sedbergh was his first!) and showing that there are some footballers who can run proper races! The things we do for love eh Lewis...
Kevin Allerton - first ever BOFRA race for this tri-athlete, who decided that a 35mile cycle to the race was just the warm up needed! (I wouldn't mind but he finished well ahead of me! !)
Peter Williams - who despite taking a nasty fall and looking to the world to have broken (or at the very least dislocated) a finger, finished in true fell runner style, and only then decided to go get his broken bones fixed. Hope it all got put back in the right place(s) Peter!
...we hope to see all of you back for Kettlewell in 2 weeks time!
Neil Taylor