Kirkby Gala Fell Race Results
Saturday 7 July 2007
Race Report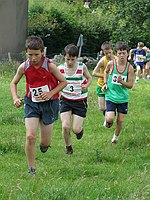 Kirkby Gala is an excellent day out and always has a warm welcome for our runners, so it was nice to see plenty of us supporting the event. Considering the wet weather recently we copped for a nice day, with plenty of sunshine if a bit breezy.
All the races except for the under 9's go out on to the road and climb for half a mile before hitting the fell. From here there are a couple of climbs up fields and heathland with varying turnarounds depending on age. Once at the hill summit where the under 17s turn, the seniors carry on past this point to take in some rough moorland, before getting to their turnaround point. This takes them on a loop back to the route they came out on to the first summit and then back down the road section into the Gala field.
In the senior race local runner and a previous BOFRA champ was John Atkinson, winning fairly comfortably, with Mark Horrocks and Alistair Dunn in pursuit. After them there was quite a gap - probably down to quite a few of the following runners going off route. Unfortunately this happens occasionally at events but it's still upsetting on the day. Lee Proctor and Damien Scholes found the right route with one second parting them in fourth and fifth place. The vets top placings were; over 40 John Atkinson, over 45 Kenny Forster who finished sixth overall and over 50 Ian Robinson in thirteenth place overall. 42 runners competed.
In the ladies' race 5 seconds parted Juliet Horrocks and Kate Rogan for first and second placings. Third spot was filled by Lynn Whittaker, with Tracy Uren in fourth.
Once again the under 17's turned out in force. The competition here is keen and the runners would look top class in any running event. James Mountain popped in another great performance, but a newcomer to this age group Tom Sessford is putting the pressure on finishing 4 seconds behind him. Jos Addison took third place with fourth and fifth places filled with Tom Doyle and Jonny Bradshaw. Emma Flanagan had a clear win from Emma Thompson, with Amy Fretwell and Sarah Wilson third and fourth.
Sam Till held off Rory Addison in a close finish in the under 14's with Will Marshall, Ryan Croasdale and Sam Westcroft in the next three places. Rebecca Swindells once again put in a fine run to win the under 14's girls with Emily Throup and Melanie Morphet in the following places.
We have some brilliant runners in the under 12's and they put on some fantastic running displays. James Knox led them home with Ben Johnstone, Ben Till and Sam Stockdale in hot pursuit. The first girl; Lorna Jo Nunwick was followed home in order by Nicole Narey, Rebecca Flanagan and Martha Pickles.
It was full steam ahead for the under 9's who did two laps of the Gala field. Ellamae Gibson was like a little locomotive pulling the rest of the under 9's round, with Daniel Cardus and Lucy Horrocks second and third overall, David Griffiths and Nathan Chadwick were second and third boys, and Suzannah Forster was third girl.
Lastly I would like to thank the Kirkby Gala Committee for a great day and for everyone who helped with organisation. Bonnie Scotland at the weekend!
Barry Scholes