Sedbergh Gala Fell Race Results
Saturday 19th May 2007
Race Report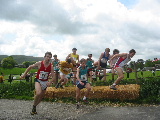 Wet and windy conditions did not deter the runners at Sedbergh Gala, with an excellent turnout in every age group. In the senior race 65 runners lined up. Last years champ Alastair Dunn got off to a fine start with a 31 second gap between himself, and second place Tom Addison, 3rd spot was V.40 Mark Horrocks closely followed by Simon Bland. First V.50 was Billy Proctor in 7th place.
Helen Glover got off to a fine start with a comfortable win with most of the senior field behind her, Emma Stuart ran 2nd, with Juliet Horrocks 3rd.
27 keen runners lined up for the u'17s, Alex Till only got the better of Jack Thompson with 3 seconds separating them, 3rd was James Mountain with last years U.14 champion, Tom Sessford in 4th. Rosie Stuart was 1st girl with Emma Flanagan and Emma Thompson 2nd and 3rd. This age group is hotly contested. Everything earned here will be hard fought for.
It was a double for the Till family with Sam Till winning the u'14s from Rory Addison and Ryan Croasdale, close in 4th place was1st girl home Melanie Hyder, Rebecca Swindells and Ellie Taylor finished 2nd and 3rd. Great things are expected in this age group. 19 runners competed on the day.
The u'12s was a strong field of 31 runners James Knox put in a 1st class performance to win this with James Hall and Ben Johnstone in 2nd and 3rd place. The girls race was won by Megan Stuart with Lorna Jo Nunwick 2nd and Rebecca Flanagan in 3rd.
BOFRA would like to thank you all for the excellent support at our first 2007 race, and a special thank you to our ladies at the start line, without these there would be no point turning up.
Barry Scholes